High Performance Building Design for Stronger Financial Outcomes
Integrated Ventilation is enabled by the simple L-shaped duct that connects the flooring system with the HVAC system. There are no moving parts, and no new pieces of equipment to install. In fact, buildings with integrated ventilation look largely the same as any standard building, except for the fact that many of the mechanical systems, including the HVAC system, can be reduced in size or eliminated, as illustrated in the case study example below.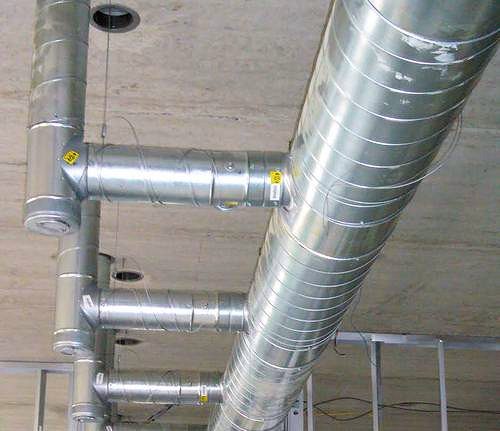 Using this Berheim and Dean case study, modeled performance of Integrated Ventilation was 10% more efficient than the nodeled performance of the buiding with all of the advanced energy conservation measures installed (19.4 kBtu/sf/yr vs. 17.5 kBtu/sf/yr for Integrated Ventilation).
Both of these designs are extremely efficient, however, the same design integrating TermoBuild allows for significant cost avoidance and downsizing of equipment reducing both cost and complexity.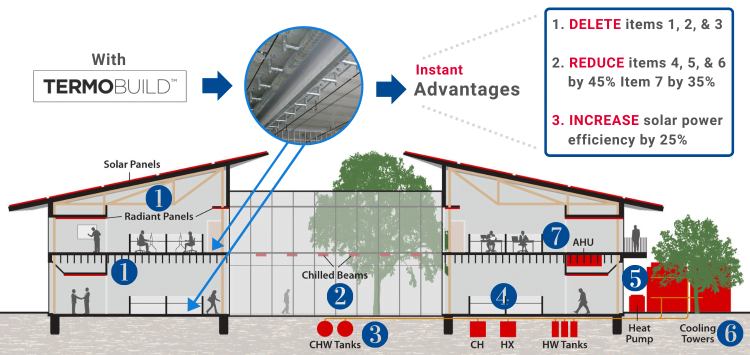 Integrated ventilation achieves better performance for less CAPEX and OPEX
Capital construction cost savings of $10 – $50 per sf and up of 30% reduction in operating costs over the building's lifecycle less than standard buildings of the same design, mainly due to these reductions and eliminations.
With Integrated Ventilation, overall lifecycle costs are reduced significantly. first, many of the operational components of the HVAC system can be reduced in size or eliminated – reducing the cost to operate and maintain (parts, etc.).
Second, more complex, digital ECMs can be left out of the design if desired, reducing the need for extensive facilities management training, experience, and head count.
In addition to lower lifecycle costs, integrated ventilation allows for numerous areas of cost avoidance. Due to the unique design features of integrated ventilation, the items listed below can largely be eliminated from projects since they are no longer necessary.
✓ Eliminate Drop Ceilings

✓ No Perimeter Ducting

✓ No Advanced Energy Conservation Measures

✓ No Software Fees /Subscriptions

✓ Lower Maintenance/Parts Cost

✓ Lower Maintenance Personnel Cost
Cost Avoidance vs. Cost Transfer
Many architects and design firms will promote super efficient or net zero buildings for rates that are similar to standard construction rates. This generally comes with significant cost transfer which means the building will get lower numbers, or lower quality of components in order to be able to afford the advanced energy conservation measures that enable the efficiencies.
With integrated ventilation, true cost avoidance takes place. This frees up budget for expenditures in other areas of true need, or alternately, saves capital on the entire project if there are budget constraints.