Achieving 50% Lower Energy Unit Intensity than Comparable Elementary School Buildings in Ontario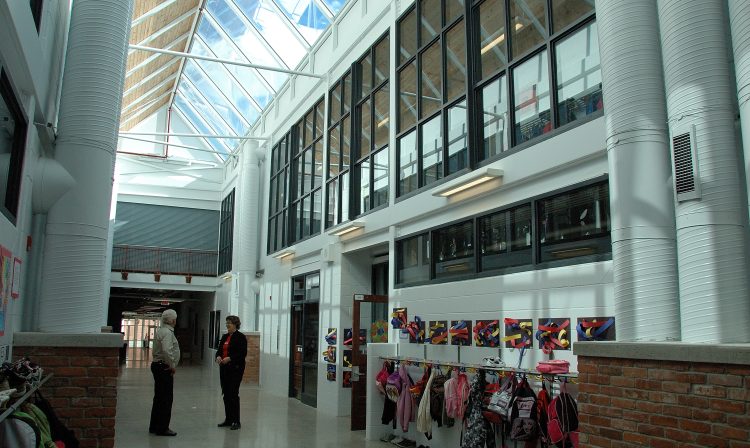 An independent audit performed on the Mundy's Bay Public School in Midland, Ontario. This independent energy audit was performed by Enermodal Engineering in Kitchener, Ontario.
This LEED Gold School school has been independently verified as the best performing school in Canada in 2011, until it was replaced with another TermoBuild school, the Hyde Park School in Barry, Ontario (8.35 ekWh/ft2). (Data for both schools are available upon request).
In 2023, these two schools remain the top 2 most energy efficient schools.
TermoBuild's top energy efficiency rankings are reported by RETScreen, a Clean Energy Management Software system for energy efficiency, renewable energy and cogeneration project feasibility analysis, as well as ongoing energy performance analysis. This software is promoted by Clean Energy Canada. Mundy's Bay is also a Government of Canada's Circle of Champions award winner.
Enermodal determined that the Mundy's Bay school was significantly more efficient than comparable schools in North America, Canada, and Ontario. It also performed dramatically better than its simulated baseline, as well as its simulated projected (modeled) performance.
In 2011, the Mundy's Bay school was documented in a study by the Toronto and Region Conservation Authority to have achieved a 9.1ekWh/ft2 EUI which bested all other schools in the study. As a reference, the US Department of  Energy (DOE) rates the median K-12 School in North America at 14.2 ekWh/ft2 EUI – 56% higher than Mundy's Bay EUI.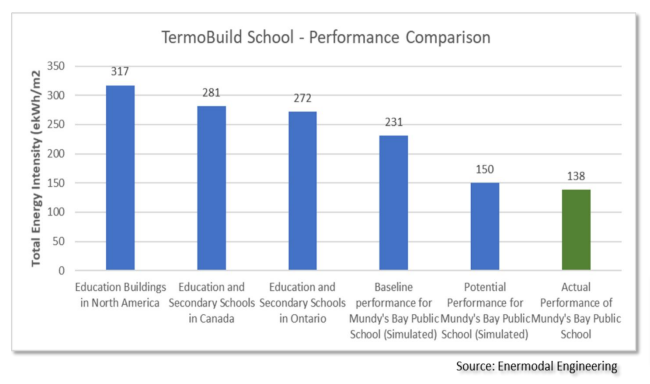 From the Enermodal energy Audit: Based on the gross floor area of 4,792 m2, the annual energy intensity [ekWh/m²] for the Mundy's Bay Public School is 138 ekWh/m² (12.8 ekWh/ft 2) which is approximately 50% lower than comparable elementary school building in Ontario.